Exhibitors
Booking Enquiries: Zoe@showmastersevents.com
If you are new to Showmasters Events you can click here and complete an online enquiry form, plus read a bit more about exhibiting at our events – Click here to view and complete the form
PRICES
Tables with walls: £230 (inc VAT) each (6×2 foot trestle tables, with 8 foot grey hessian covered backing boards perfect for displays.)
Tables without walls: £190 (inc VAT) each (No backing boards provided)
Backing Tables: £20 (inc VAT) each (Same size as regular tables but MUST sit behind and not to the side of it. This effectively doubles your display depth)
Power: £200 (inc VAT) This is one power outlet for a regular UK plug. (British 13A/230-240 V 50 Hz grounded and fused) Extension cables are not provided.
Prices are inclusive of the entire show and are not per day.
Chairs are provided but tablecloths are not.
BOOKING & PAYMENT
You can book tables by visiting HERE
To register your interest and obtain the exhibitors password please email zoe@showmastersevents.com
£60 (inc VAT) deposit per table is required to confirm your place. When you visit the shop you will see there are two types of table tickets on offer: deposit and completion. You will need one of each ticket for your table to be fully booked, but you don't need to get them both at the same time. You can also add backing tables, power or an additional wristband at any time, either at the time of ordering or at a later date.
All tables must be paid for in advance of the show. No booking is 100% confirmed until FULL payment has been made.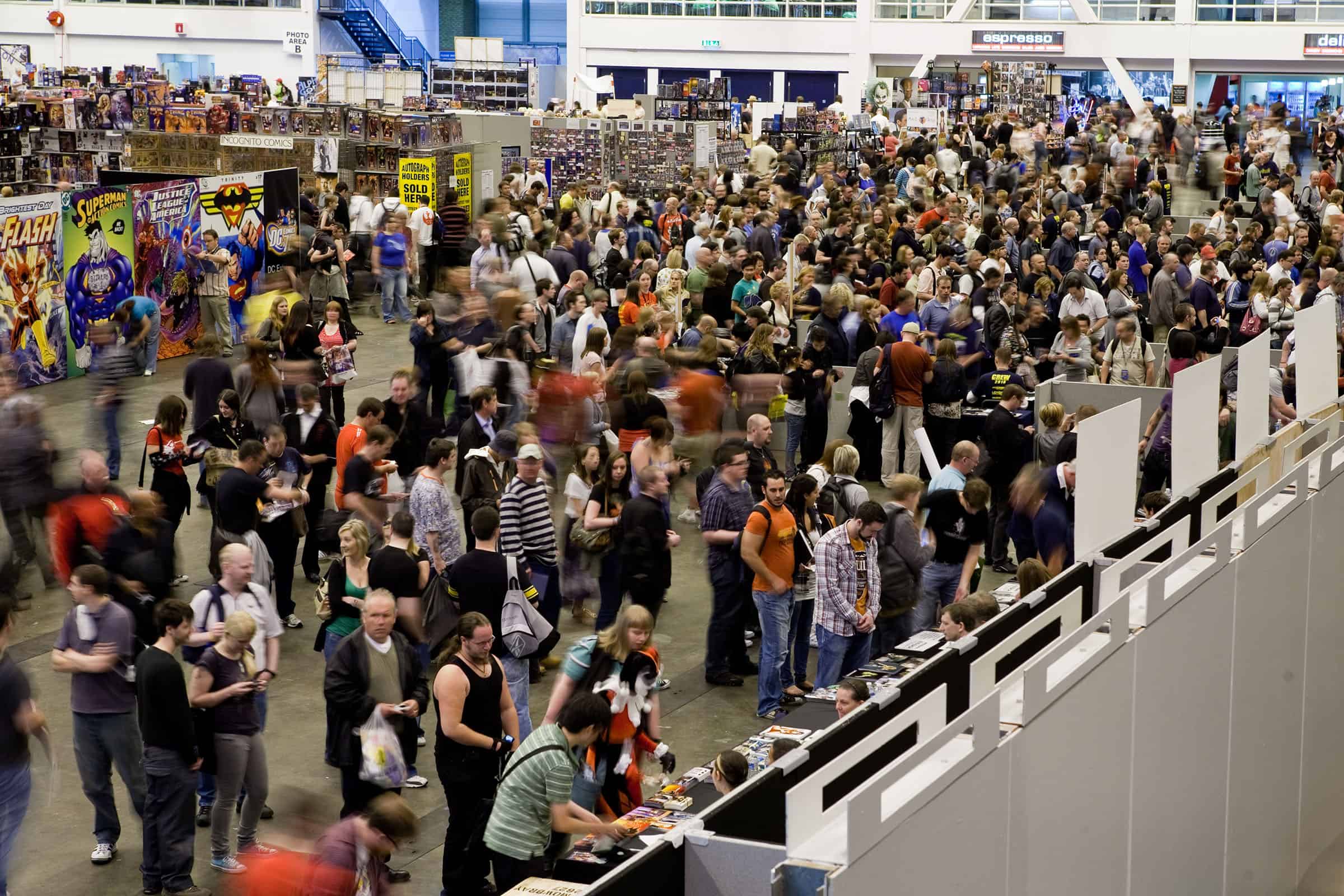 SETUP
All set up can and must be done from 2pm on the Friday of the show. There will be NO set up on Saturday morning under ANY circumstances.
BREAKDOWN
This begins as soon as the show closes on the Sunday evening. Please be aware that there is only a limited time available for breakdown (exact times will be detailed in your information pack)
OTHER INFO
Bookings for Film & Comic Con Glasgow's tables are on a first come, first served basis. The number of exhibitors will be limited so book early to avoid disappointment.
Displays may not be over 2m high without pre-approved risk assessments.
Those with 2 or more pitches booked are given the option to purchase one additional exhibitor wristband at a discounted price of £25.
Spaces are not transferable and non-refundable.
All bookings are subject to our Standard Terms and Conditions.
Pitches are for the duration of the event. Exhibitors are expected to be in attendance for the duration.
All set-up must be done on the day prior to the event opening as per instructions within the exhibitors pack (which will be provided in advance of the event).
We do not provide a floor plan but any location requests will be taken into account and we will try our best to accommodate them.
Chairs are provided based on upon number of pitches booked.
You will be sent an information pack via email in the weeks before the show. It will contain all the details you need to know that are not available until that time. (Please make sure you provide a valid email at the time of booking to ensure the details reach you correctly.)